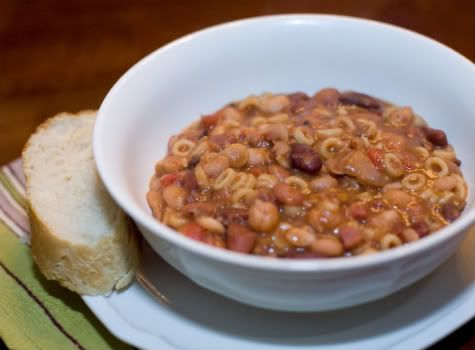 In reality, this soup can have more than just seven beans, but that depends on the dry bean mix that you buy. Mine had 15 different kinds. So, let it be known...if you don't like beans, this recipe is not for you! However, if you do, it is an easy and very inexpensive recipe that is so warm and satisfying. Also, it takes some pre-planning because of the dry beans, so read through the recipe before you plan to make this and allot enough time. But it's a really
easy
soup.
1 pound dry mixed beans
1 cup diced ham or ham hock
2 quarts water
1 medium onion, diced
1 can petite diced tomatoes, undrained
1 teaspoon chili powder
2 cloves minced garlic
1 cup dry pasta rings
Salt and pepper to taste
Sort and wash mixed beans in a colander under cold running water. Place beans in a large soup pot and cover with water. Soak beans overnight.
The next day, drain and rinse beans once more. Return to pot and add 2 quarts of water. Add diced ham or ham hock. Bring to a boil, then reduce heat and simmer for 2.5 to 3 hours.
Then, add onion, tomatoes, chili powder, garlic, salt and pepper. Simmer an additional 20 minutes. Then add the pasta and simmer until pasta is tender, approximately 10 more minutes.