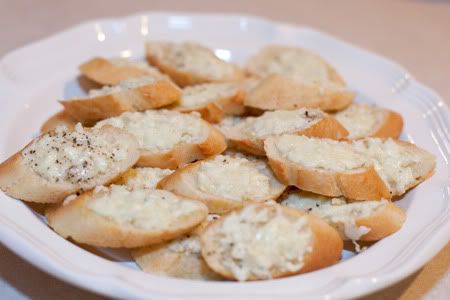 24 (1/3 inch thick) baguette slices
1/4 cup olive oil, divided
3/4 cup grated Pecorino Romano cheese
5 large garlic cloves
Kosher salt
Freshly ground black pepper
Preheat oven to 350 degrees.
Arrange bread slices in one layer on a large baking sheet and brush tops with 3 tablespoons of the olive oil.
Stir together the remaining 1 tablespoon oil, cheese, garlic, 1/4 teaspoon salt, and 1/4 teaspoon pepper in a small bowl. Top each slice with the cheese mixture, mounding it slightly.
Bake until topping just starts to melt, about 6 to 8 minutes. Serve warm.