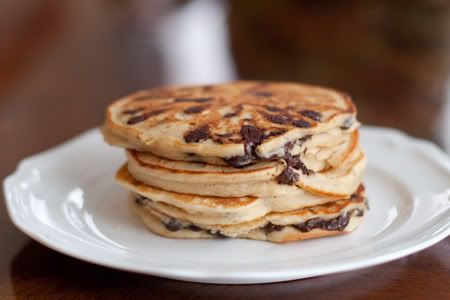 1 cup pancake mix, such as Bisquick
1 large egg
1/3 cup peanut butter
1 cup milk
1/2 teaspoon vanilla
1/2 cup semisweet chocolate chips
1 tablespoon unsalted butter

Combine all ingredients except butter in a large bowl, mixing until a smooth batter forms. Use the butter to grease a large nonstick skillet or griddle over medium-high heat. Pour batter in 1/4 cup scoops onto cooking surface. Cook until the tops bubble and the edges begin to firm up. Flip and continue to cook for about 2 minutes, until both sides are golden brown.

Makes 8 medium-size pancakes.