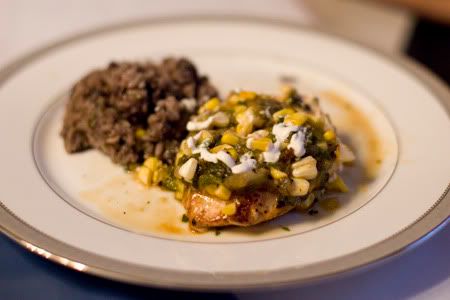 For the Chicken:

6 boneless, skinless chicken breasts
1/4 cup olive oil
Juice and zest of one lime
1 Tbsp. minced garlic (about 6 cloves)
1-1/2 tsp. kosher salt
1/2 tsp. ground pepper
For the Salsa:
2 1/2-inch-thick slices yellow onion
5 tomatillos, (about 1/2 lb.) papery skins removed, rinsed
1 ear fresh sweet corn, husked
1 medium poblano chile, 3 to 4 inches long
1/4 cup tightly packed fresh cilantro leaves
1/2 tsp. brown sugar
1/2 cup sour cream
1 Tbsp. extra virgin olive oil
One at a time, place each chicken breast, smooth side down, between 2 sheets of plastic wrap. Pound to even 1/2-inch thickness.
In large resealable bag combine the 1/4 cup olive oil, 2 Tbsp. of the lime juice, the garlic, salt and pepper. Add chicken, press air out of bag, and seal. Turn to coat evenly. Marinate, refrigerated, for 1 to 2 hours.
Prepare grill for direct cooking over medium heat (about 400 degrees F). To prepare the Tomatillo-Corn Salsa: Brush onion, tomatillos, corn, and chile with olive oil. Grill vegetables over direct medium heat, with lid closed as much as possible, until onions are lightly charred, tomatillos soften and begin to collapse, corn is tender, and chile is softened and lightly charred, turning as needed. (About 10 minutes for onion, and 12 to 15 minutes for tomatillos and chiles.) Place chile in bowl. Cover with plastic; let steam 10 minutes.
Peel off skin from chile; discard. Remove stem and seeds. Place vegetables (except corn), cilantro, brown sugar, and 1/4 tsp. salt in food processor or blender. Whirl until pureed; stir in corn. Add more brown sugar or salt to taste.
Increase grill temperature to high (about 500 degrees F) or add additional coals and heat until high heat is reached. Remove chicken from bag, letting excess liquid drip back into bag; discard liquid. Grill chicken, smooth side down, over direct high heat, with lid closed as much as possible, until well marked, 3 to 4 minutes. Turn; grill just until cooked all the way through, 1 to 2 minutes more. Transfer to a platter.
In bowl whisk together sour cream, the 1 Tbsp. olive oil, lime zest, remaining juice, 1/4 tsp. salt, and 1/4 tsp. pepper. To serve, spoon salsa over chicken and drizzle with lime sour cream mixture.
Makes 6 servings.