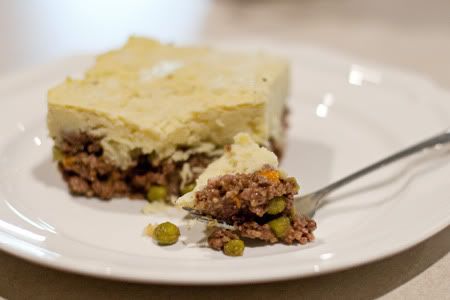 This recipe is from my grandma June. When she gave it to me, there were no measurements or amounts of any of the ingredients, so I will estimate them for you. It is really hard to make this incorrectly...it's easy!
3 pounds lean ground beef
1/2 cup yellow onion, chopped
2 packets brown gravy mix
1 small bag of frozen peas and carrots
1 tablespoon mild Indian curry powder
5-6 medium to large sized Yukon Gold potatoes, diced*
1/2 cup butter
milk or heavy cream
salt and pepper
Preheat oven to 350 degrees.


Bring a large pot of water to boil and add diced potatoes. Cook for about 15 minutes or until potatoes are very tender, but not mushy.


While the potatoes are cooking, prepare both brown gravy packets according to directions. Cook ground beef on medium high heat in a skillet with the diced onion until meat is just brown and onion is tender. Drain beef mixture and return to pan. Add curry, prepared brown gravy, and frozen vegetables. Cook for about 5 minutes on medium low so that the vegetables thaw completely and ingredients cook together. Pour meat mixture into the bottom of a greased 9x13 casserole dish.
After the potatoes have cooked until tender, drain the water and place in a large bowl. Mash the potatoes with about 1/4 cup butter and enough milk or heavy cream to make the potatoes creamy but not runny or mushy. Add salt and pepper to taste. Top the meat mixture with the mashed potatoes and spread evenly. Place 4-6 pats of the remaining butter on top of the potaotes.


Bake at 350 degrees for approximately 30-35 mintues or until hot and bubbly. Let rest for 5 minutes before serving. Makes 8-10 servings.


*I like to use Yukon Gold potatoes because I think they have the best flavor and texture, but you can use any kind of potatoes you would like.