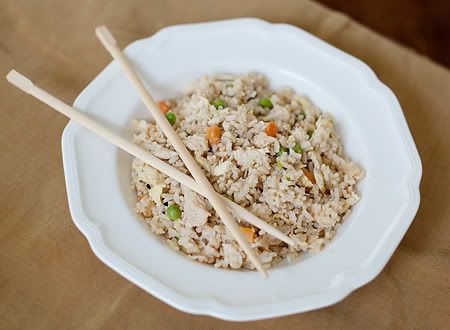 Cooking Spray
3 eggs, beaten
1 tablespoon oil
1/4 cup green onion, minced
4 cups cooked rice (grains separated)**
1 cup frozen carrots and peas, thawed
1-2 tablespoons soy sauce
2 teaspoons sesame oil
2 tablespoons butter

Lightly spray your wok with cooking spray and then heat wok over medium heat. When wok is hot, pour in the eggs and scramble with wooden spoon or spatula. Remove the eggs when they are still slightly runny and set them aside.

Coat the wok with the 1 tablespoon oil and swirl it around to coat the entire surface of wok. When the oil is very hot, add the green onions and stir fry until fragrant (only about 10-15 seconds). Add in the rice and combine with the onions. Spread out the rice over the entire surface of the wok and let it sit untouched until the grains begin to sizzle (about 1-2 minutes). Toss the rice and add 1 tablespoon soy sauce. Toss rice again and then spread it out again.

Add the peas and carrots, the cooked eggs, and sesame oil, and butter. Toss everything to distribute all ingredients and melt butter. Spread rice out again and let it sit until the grains get very hot. Taste rice at this point and add another tablespoon of soy sauce if necessary.
Makes approximately 6 servings.

(You can add any type of protein to this dish as well. Shrimp, pork, chicken or beef all work really well. Just be sure to cook/saute your meat first and cook it until it is just short of being done. Set it aside and add it back in at the very end when all the ingredients are heating up together.)

** VERY IMPORTANT: For the best results, cook your rice at least one day prior to making this dish and refrigerate it. This ensures that the rice fully absorbs the moisture from cooking and dries out a little. When you're ready to make your fried rice, make sure you break up the grains of rice really well before adding it to the wok.