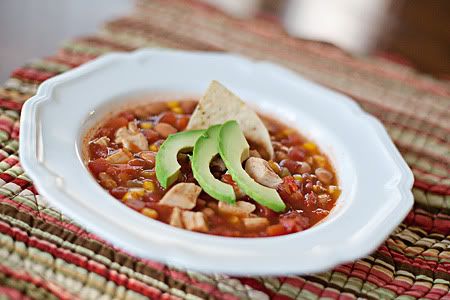 This recipe is very close to the
Chicken Tortilla Soup recipe
that Becky has shared before so I almost didn't post it. But it has a few slightly different ingredients, and this one is intended for the crockpot, so here it is anyway!
4 cups chicken breast, cooked and diced
1 large (28 oz.) can petite diced tomatoes
1 (14 oz.) can enchilada sauce
2 green onions, chopped
1 can chopped green chiles
1 can pinto beans, drained and rinsed
1 tablespoon garlic, minced
32 oz. low-sodium chicken broth
1 teaspoon cumin
1 teaspoon chili powder
salt and pepper to taste
1 (10 oz.) package frozen corn
Optional Toppings:
Corn tortillas for crispy tortilla strips (see instructions below)
Avocado
Shredded Cheese
Sour Cream
Place chicken, tomatoes, enchilada sauce, onion, green chiles, beans, garlic, and corn into crock pot. Pour in chicken broth. Add cumin, chili powder, salt and pepper. Cover and cook on low for 5-6 hours or on high for 2-3 hours. Serve with desired garnishes.

*To make crispy tortilla strips, preheat oven to 400 degrees. Brush both sides of corn tortillas with oil. Cut tortillas into approximately 1/2 inch strips using a pizza cutter. Bake at 400 until crisp, usually about 10-15 minutes. Sprinkle on top of soup.