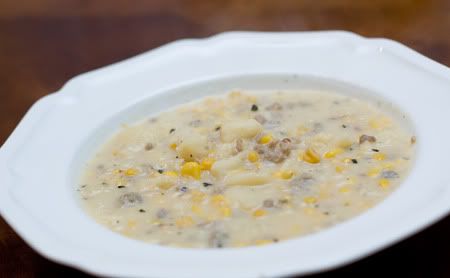 This recipe demonstrates everything that a soup (chowder) should be: flavorful, hot, rich, easy and it has corn. This is one of my all-time favorite soups!
1 pound pork sausage (sometimes I use spicy)
1 cup chopped onion
4 cups potatoes, peeled and cubed
2 cups water
1 teaspoon salt
1/2 teaspoon dried marjoram
1/2 teaspoon ground pepper (I use more than this)
1 (17 oz.) can cream-style corn
1 (17 oz.) can whole kernel corn, drained
1 (12 oz.) can evaporated milk
In a dutch oven or pot, cook the pork sausage and onion until the sausage is brown and the onion is tender. Drain mixture on paper towels. Return sausage mixture to dutch oven. Stir in potatoes, water, salt, marjoram and pepper. Bring to a boil then reduce heat. Simmer uncovered for about 15 minutes or until potato is tender. Add cream-style corn, whole kernel corn and evaporated milk. Mix and heat through.
Serves 4-6