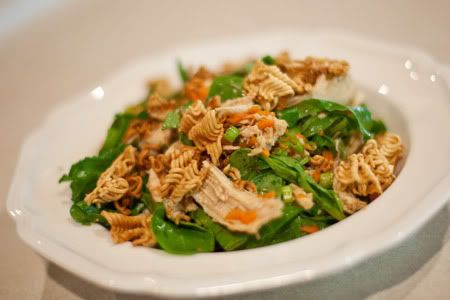 1 package (3 oz) Low Fat Ramen Noodles
1 tablespoon sesame seeds
1 1/2 teaspoon canola oil
1 pound boneless, skinless chicken breasts (trimmed
3 slices (1/4 in thick) fresh ginger
1/2 teaspoon salt
3 tablespoons orange juice
3 tablespoons cider vinegar
5 teaspoons reduced-sodium soy sauce
5 teaspoons sugar
3/4 teaspoon toasted sesame oil
2 cups shredded green cabbage (I used arugula)
1 medium carrot, shredded
3 scallions, chopped

Preheat oven to 350 degrees

Crumble ramen noodles onto a large rimmed baking sheet. Add sesame seeds and canola oil; toss to coat. Bake for 10 minutes. Stir, then bake until the noodles are golden brown, about 5 minutes more. Let cool on the pan on a wire rack.
Meanwhile, place chicken in a medium skillet or saucepan with water to cover. Add ginger and salt; bring to a boil. Cover, reduce heat to low, and simmer gently until no longer poink in the center, about 10-15 minutes. Transfer the chicken to a clean cutting board to cool. Using forks, shred into bite-size pieces.
Combine orange juice, vinegar, soy sauce, sugar, and sesame oil in a small bowl or jar with a tight-fitting lid. Whisk or shake until the sugar has dissolved.
Just before serving, combine the shredded chicken, cabbage (or arugula), carrot, and scallion in a large bowl. Add the toasted noodle mixture and dressing; mix well.
*A note on specialized ingredients: I did not use the sesame oil because it is an expensive ingredient that I am not likely to use in most of my cooking. I happened to already have sesame seeds, but I would have omitted those too for the same reason. I think the salad still tasted wonderful.