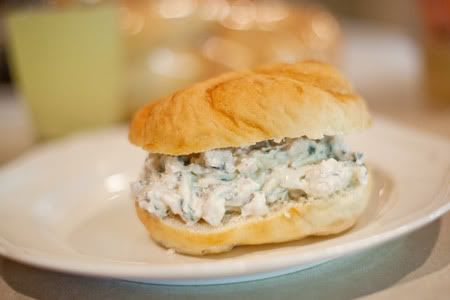 Jill Horton brought this to us after Logan was born and it was so delicious I asked her for the recipe. She said she got it from allrecipes.com, but that she tweaked it a bit. Here is her version.
2 whole boneless, skinless chicken breasts
salt and pepper to taste
1/2 cup mayonnaise
1/2 sour cream
1 cup chopped fresh basil
2 cloves crushed garlic (or garlic powder
3 stalks celery, chopped
2/3 cup parmesan cheese

Season chicken with salt and pepper. Roast at 375 degrees for 35 minutes, or until juices run clear. Let cool and then shred or chop into chunks.
Combine mayonnaise, sour cream, basil, garlic and celery. Add chicken and parmesan cheese. Mix well. Refrigerate and serve.
Makes 4 servings.