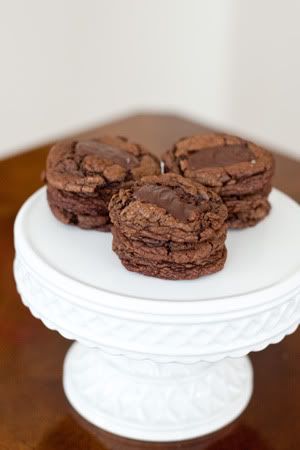 ¾ cup butter
1 ½ cups brown sugar
2 tablespoons water
2 cups semisweet chocolate chips
2 eggs
2 ½ cups all-purpose flour
1 ¼ teaspoons baking soda
½ teaspoon salt
1 (4.5 ounce) package Andes mints
In a saucepan over medium heat, cook the sugar, butter and water, stirring occasionally until melted. Remove from heat and stir in chocolate chips until melted.
Pour the chocolate mixture into a large bowl and beat in eggs, one at a time. Combine the flour, baking soda, and salt; stir into chocolate mixture. Cover and refrigerate dough for at least 1 hour.
Preheat oven to 350 degrees. Grease cookie sheets. Roll cookie dough into walnut sized balls and place 2 inches apart on prepared cookie sheets. *
Bake for 8-10 minutes in preheated oven. Be careful not to overbake. When cookies come out of the oven, press one Andes mint into the top of each cookie. Let sit for 1-2 minutes. When the mint is softened, swirl with a toothpick.
Makes approximately 32 cookies.
*I used silicone baking sheets on top of my cookie sheets instead of greasing them. I also used a mini-ice cream scoop to form the balls instead of rolling them with my hands.