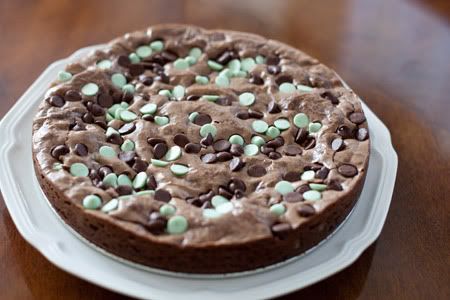 1 1/3 cups all-purpose flour
2 tablespoons baking cocoa
¼ teaspoon baking soda
¼ teaspoon salt
¾ cup granulated sugar
½ cup (1 stick) butter, cut into pieces
2 tablespoons water
1 2/3 cup (10 oz. pkg.) chocolate and mint morsels, divided
½ teaspoon vanilla
2 large eggs

Preheat oven to 325 degrees. Grease 9-inch springform pan.

Combine flour, cocoa, baking soda and salt in small bowl. Combine sugar, butter and water in medium saucepan. Warm over medium heat, stirring constantly, just until butter is melted; do not boil. Remove from heat. Add ¾ cup morsels and vanilla. Stir until morsels are nearly melted. Add eggs, one at a time, stirring until smooth. Stir in flour mixture. Stir in ½ cup morsels. Spread batter into prepared pan and sprinkle with remaining morsels.

Bake for 25-28 minutes or until toothpick inserted into center comes out slightly sticky. Cool in pan on wire rack. Remove side of pan. Cut into wedges. Makes 12 wedges/servings.