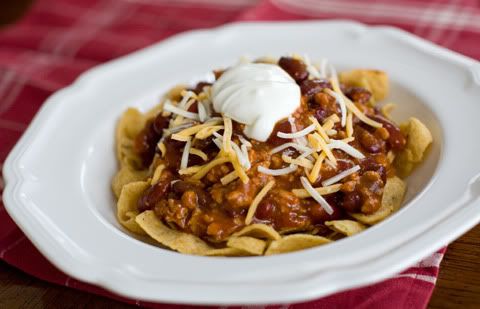 This recipe was given to me by Verdonna Brundige at my recipe shower that she hosted right before our wedding. It very quickly became a family favorite.

1 pound lean ground beef (or turkey)
1 medium onion, chopped
1 green bell pepper, chopped
2 cans kidney beans, undrained
1 can Rotel-type tomatoes, undrained
1 can tomato paste
2 teaspoons chili powder
3 cloves garlic, minced
Brown meat over medium heat. Drain and return to skillet. Add all other ingredients and combine. Simmer over low heat for approximately 1 hour, stirring occasionally.
Serve with crackers, Fritos, or cornbread. Top with sour cream and shredded cheese, if desired.
Makes approximately 6 servings.