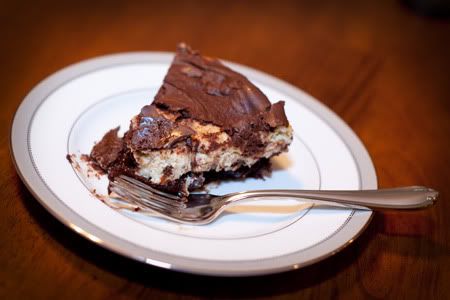 2 packages brownie mix (OR a 2 batches of a homemade recipe - I used
Memaw Price's Chocolate Brownies
)
2 packages (8 ounces each) cream cheese, softened
1/2 cup sugar
1 teaspoon vanilla extract
2 eggs
1 cup milk chocolate chips, melted
Prepare and bake one brownie mix (or homemade recipe) according to directions. Allow to completely cool. Cut into 1-inch square pieces.
Prepare the other brownie mix (or homemade recipe) and spread it into a greased 9-inch springform pan. Bake at 350 for 15 minutes (brownies will not test done). Cool for 10 minutes on wire rack.
Meanwhile, in a bowl, combine cream cheese, sugar and vanilla. Add eggs, one at a time, beating well after each addition. Gently fold in about 1 1/2 cups of the brownie chunks into the cheesecake batter. Pour over the brownie crust. Top with melted chocolate.
Bake at 350 degrees for 35-40 minutes or until center is almost set. Run a knife around the edge of the pan to loosen and cool completely. Remove sides of pan and refrigerate for at least 3 hours.
Makes about 8-10 servings.